FSU History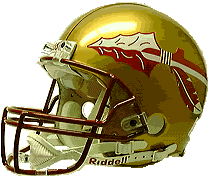 FSU's Helmets
The Helmets you see the players wear today are Coach Bobby Bowden's idea. He brought them in when he became head coach in 1976.Before Bowden there were many different helmets. FSU's 1975 helmets had the outline of the state with a large Seminole head logo where Tallahassee should be. Before that from 1970-74, the helmet had a red stripe and two white stripes down the middle, along with a logo of the state of Florida on the side with the word STATE written on it. From 1964-68 helmets featured the word STATE on the sides of a gold helmet with different stripes. Now for outstanding performance in academics and athletics a player receives a Tomahawk sticker to put on his helmet.
Retired Numbers and Jerseys

FSU's greatest defensive player was Ron Simmons. His Number , 50, was retired in 1988. He was The Noles first two-time consensus All-American. He was the first Seminole defender to have his number retired.
Deion "Prime Time" Sanders is the finest defensive back to come out of FSU. His Jeresy was retired in 1995. In 1988 he won the Jim Thorpe award and he was a two time All-American.
Charlie Ward's jersey was retired during his Heisman Trophy ceremony in 1993. He was a consensus All-American who won over 30 awards which are too many to write.
Warrick Dunn was a three-time All-ACC selection and a ACC all-academic member. He was also selected to the first team Associated Press honored the same year. His jersey was retired.